Biographies
Linda M. Jacobs, President—License #0B28072
LindaJacobs@terranceinsurance.com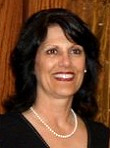 It is Linda M. Jacobs who infuses Terrance Insurance with our client-centered work ethic. Linda founded Terrance Insurance Services, Inc. in 1997. Her unique experience has made her an outstanding advocate for her clients.
Linda started her career as the benefits manager for a northern California mid-size business. Her experience as a benefits manager gives her a clear and personal perspective on her clients' needs and the impact of choices on clients and their employees. She currently specializes in Medicare Planning and Long Term Care planning after moving away from employee benefits.
She is a true believer in finding the right benefits and insurance products. Much of this strong belief is a result of Linda's personal experience with the system. In 1999, Linda's father died after a five-year decline from Alzheimer's Disease. The disease is known for the emotional toll it can take on the individual and loved ones. The financial devastation of the disease is less widely discussed. "Five years was not really a long decline for Alzheimer's. It is a hard realization, but I looked back and knew, if Dad had been with us longer, he and my mother would have been bankrupt," revealed Linda.
Linda's experience and perspective has created her professional philosophy to treat all clients as if they were part of the family and strengthened her determination to get the best individual or mix of products for each client. The results of her dedication can be felt by Terrance Insurance's clients.